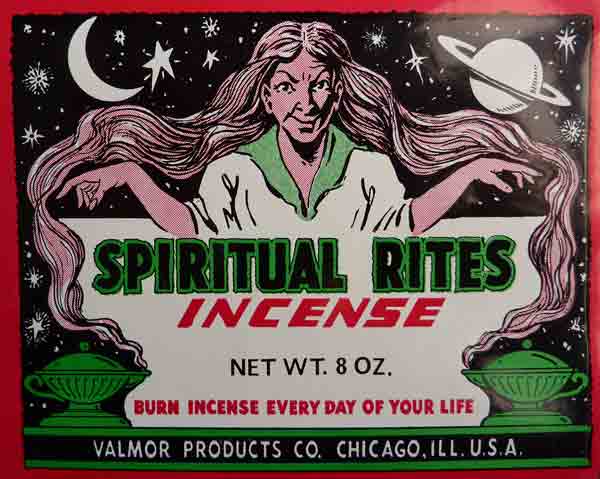 Burning incense is an important part of the services here at the Church of Good Luck.    Here are some of the antique and vintage incenses we use, a look at some of the old hoodoo incense labels, and a peek at some of the various burners we use every day.  The Bible says: "Burn Incense".  Actually, it doesn't, at least not in the imperative – that's curio catalog ad copy.  But it does say, in Exodus Chapter 30 "And thou shalt make an altar to burn incense on", followed by instructions for building it and then says "And Aaron shall burn thereon incense of sweet spices; every morning when he dresses the lamps, he shall burn it".  Later on in the chapter a recipe for holy incense is given – you'll have to look it up if you want it!
Anyway – doesn't this lady look like the one in the ad for incense in the de Laurence catalog of 1931?
Here at the Church of Good Luck we do burn incense every day. Here are some of the old, antique and vintage incenses we use: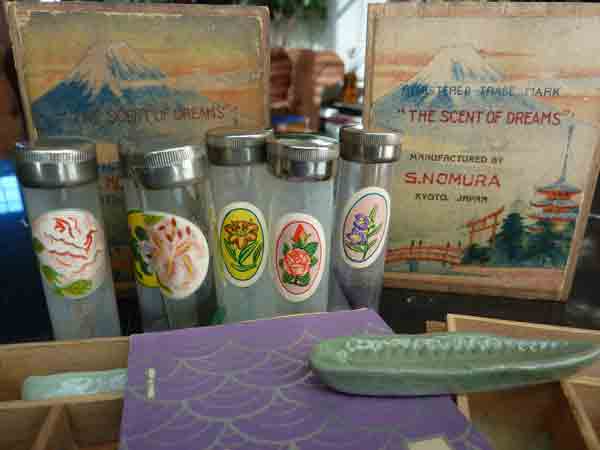 This is the Scent of Dreams by S. Nomura of Kyoto Japan. Japanese incense is absolutely the best! The old boxes contain glass vials filled with small incense sticks in various scents. These leave almost no ash whatsoever – it's all good stuff and no filler. Each box comes with a burner and a leaflet in Japanese. If you ever see these get them!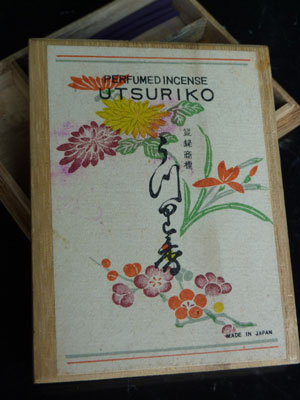 This Utsuriko Incense is also made in Japan and comes in a similar wood box to Scent of Dreams. The incense is very similar too.
This Trio Incense is also made in Japan and also very good. There are cones in several scents. They may be old, but they still smell great.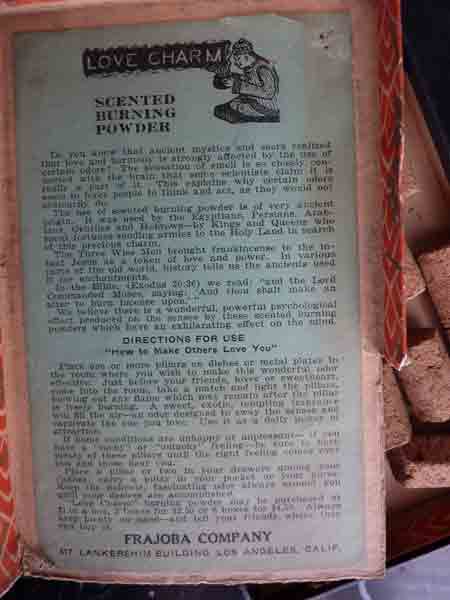 This incense from the Frajoba Company of Los Angeles is billed as a "Love Charm – Scented Burning Powder".

According to the box, scientists claim the sense of smell is actually a part of the brain and that this has been known by seers and mystics. Kings and Queens spent fortunes sending armies into the Holy Land in search of precious burning powders. The wise men brought them to baby Jesus. And here it is – for $1.00 per box (6 for $4.50) from the Frajoba Company!
Even more amazing is that the directions for use are entitled "How To Make Others Love You". It seems burning these small hexagonal "pillars" of wood powder will "sway the senses and captivate the one you love". You can also use them to change your luck from bad to good, and even keep them in your pocket (unlit of course) or purse to accomplish your desires.
Wow! The scent is like burning cardboard, unfortunately.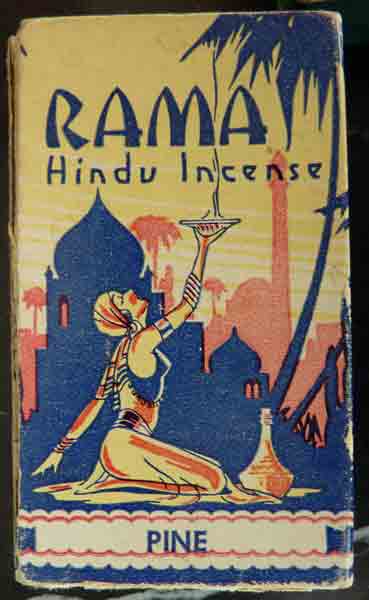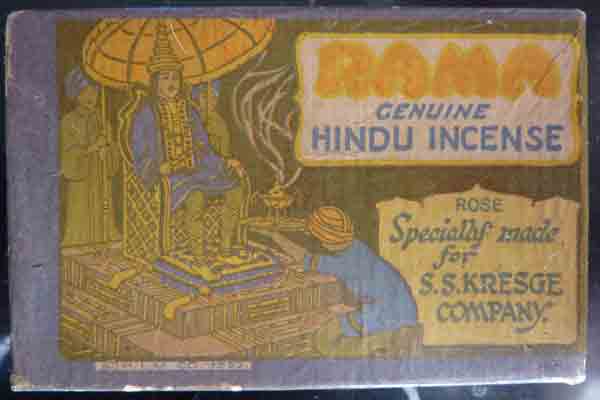 Often incense was billed as being from the exotic East. The images of scantily clad women and powerful chieftains suggest the Oriental origin of this incense.
In fact, these packages of Rama brand incense contain genuine Hindu incense, which in this case means it was made by the Hindu Incense Manufacturing Company of Chicago, specifically for the S.S. Kresge Company. The top box is dated 1922. Probably never very high quality, this incense is still 5 and Dime.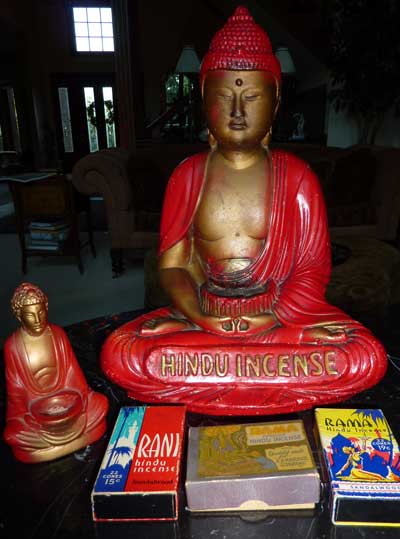 Here are several products from The Hindu Incense Manufacturing Company of Chiago. The big red and gold Buddha is an old store display. The company has been around since the 1920s but changed their name to GenieCo in the 1960s.
It was a family business until fairly recently when it was acquired by Japanese incense giants Nippon Kodo. Their flagship Gonesh cones have been on the market since the 1920s. Hindu Incense also made burners such as the small chalkware Buhddha pictured here. This one is marked "Made in the USA" and is inscribed "Frequent Use of Hindu Incense Is a Healthful Habit". There is a price sticker on the bottom showing it originally cost 25 cents.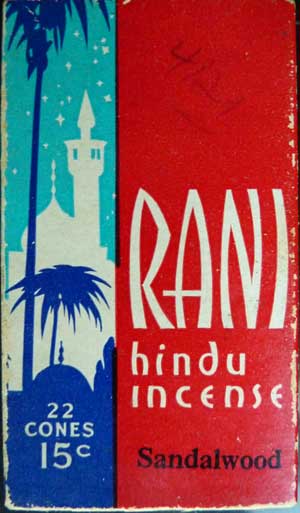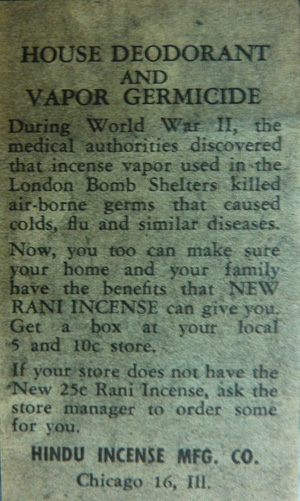 This incense is dated 1948 and was sold with the small red Buddha burner. The insert inside the box explains why burning incense is healthful – it was shown to kill germs in London bomb shelters during World War II. This must have been a time of increasing incense prices as the outer box is marked 15 cents but the insert mentions that New Rani incense costs 25 cents.
This box of Tajma brand incense was made by the Eastern Trading Company (also of Chicago). Perhaps it was intended to be burnt in the hall?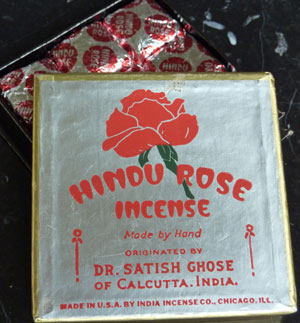 This Hindu Rose incense was made by hand and originated by Dr. Satish Ghose of Calcutta, India. It was even made by the India Incense Company -which was in Chicago, (of course).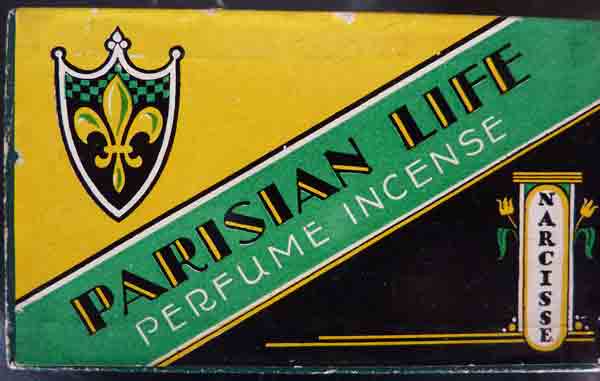 This Parisian Life Perfume Incense was made by Avon Laboratories of Chicago. It is dated 1929 and still smells wonderful today, proving that not all Chicago-made incenses were cheapo versions of the real thing.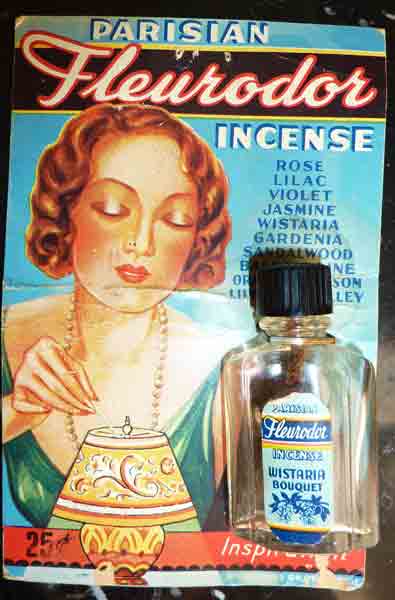 This bottle of Parisian Fleurodor Incense was an early "liquid incense". According to the instructions "just touch a drop or two to an electric light bulb, a radio tube, a radiator or stove…and immediately your room is filled with the cool, fresh, sweet-scented fragrance of countless gorgeous Parisian blossoms." This product is dated 1935 and made by Paris House, of , you guessed it, Chicago (and New York).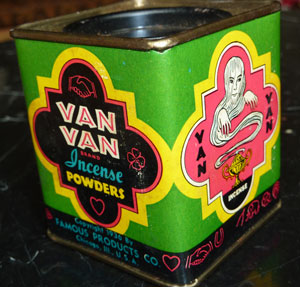 Here is a tin of Van Van incense from Famous Products Co. aka King Novelty Company. It has lost some of its scent over the years since 1936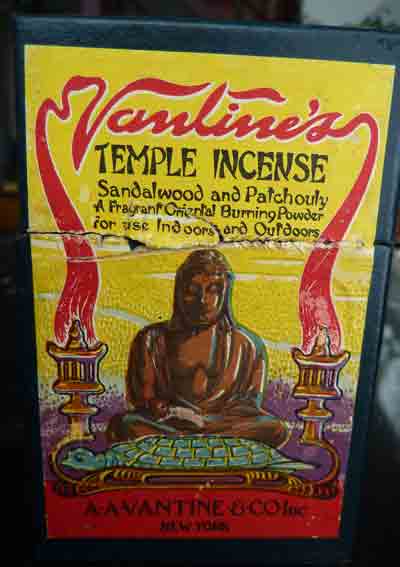 Finally we have some Vantine's Temple Incense, from the A.A. Vantine Company of New York. Vantine's was a gift importer who sold small metalware such as incense burners that were actually made in France. They also sold incense to go in the burners, and it seems to have been imported as well. This loose incense is scented with Sandalwood and Patchouli and still smells wonderful. They even included a pyramidal paper cone in the box for making nice cones from the powder. This box has a large label on the back in an Asian language – our guess is that is was actually made in Japan. This back label is actually identical to the one shown on the side of the De Laurence Temple Incense box, suggesting that both companies imported from the same Asian manufacturer.
The instructions for Temple incense suggest scenting your clothes by placing a burner of incense "in the center floor of the wardrobe. Do not allow the clothes in the wardrobe to come in contact with the burner." Thanks for that tip! Also they suggest sprinkling some incense over the glowing embers in the fireplace or as a sachet for one's clothing, lingerie or other intimate belongings. This incense was also sold as a set with a burner for $1.50. One choice was the pagoda burner No. 530, or this burner No. 525: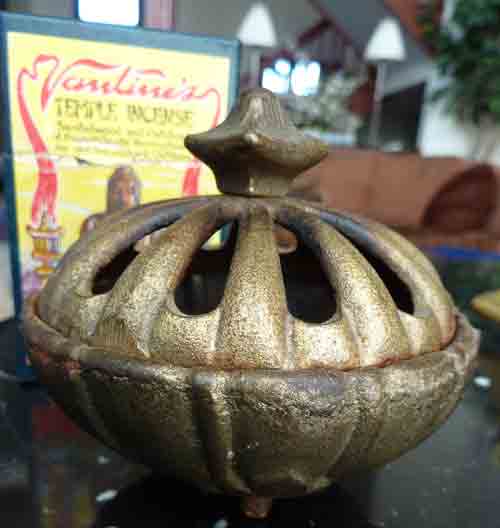 This burner is definitely the one shown  in the 1931 de Laurence catalog.  Vantine's imported a number of nice incense burners from France.  Often they are seen today without the lids that once covered the burning incense.  Here are a couple of their figural burners: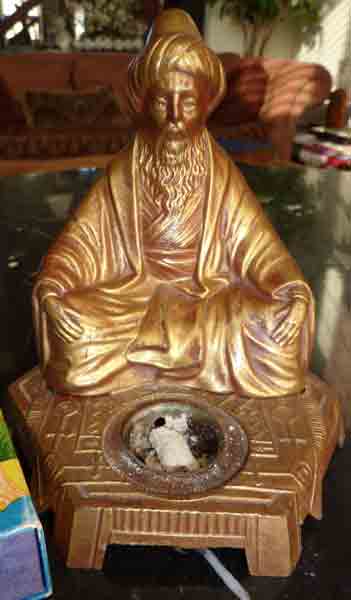 This Mid-East flavored design is signed Vantine's Made in France No. 1254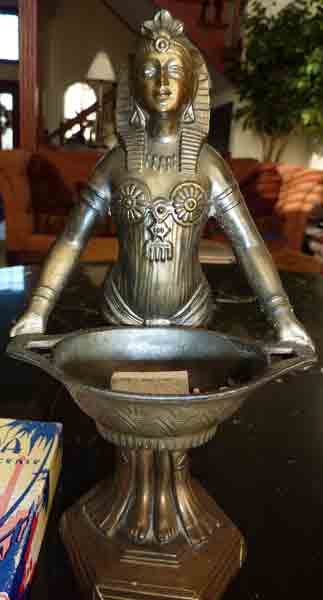 This is an Egyptian-style lady holding a basket of flowers (the flowery top is missing). This is Vantine's No. 1271.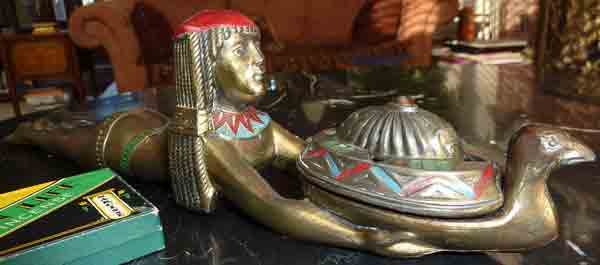 Here is another Egyptian-style lady – wearing even less! This burner is marked Japan 34421 with a rising sun symbol.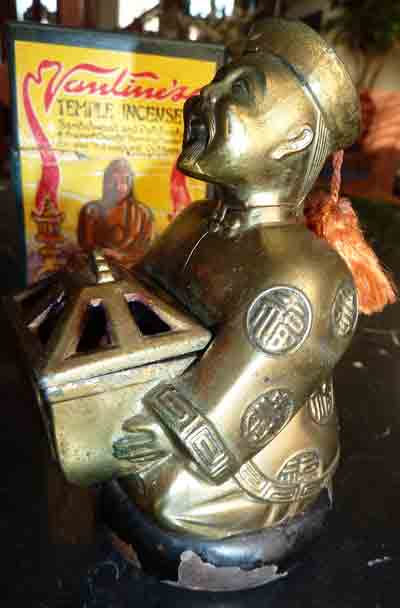 This burner is marked Japan. The bronze or brass burner is attached to a wooden base and the man has a sporty orange tassel attached to his hat.
Here are a few labels from old incense packages from Moton Neumann's family of companies that are featured in the King Curio catalogs available here.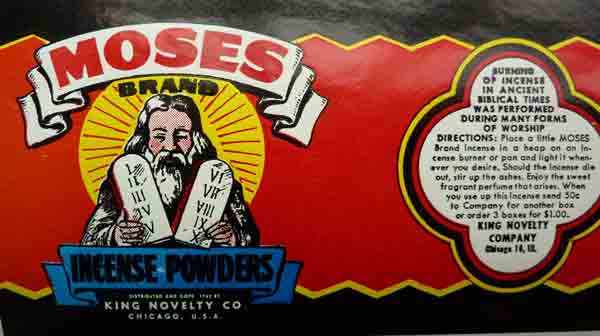 Moses brand incense powder label dated 1943 from King Novelty Company.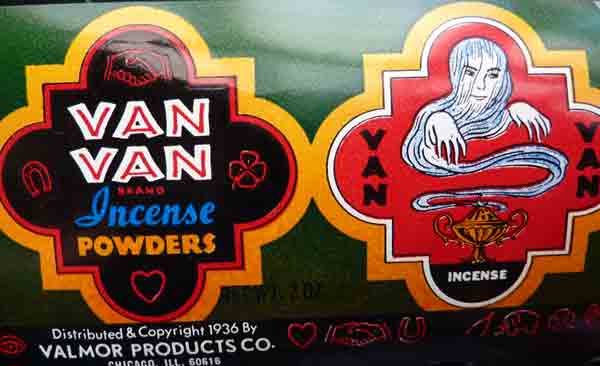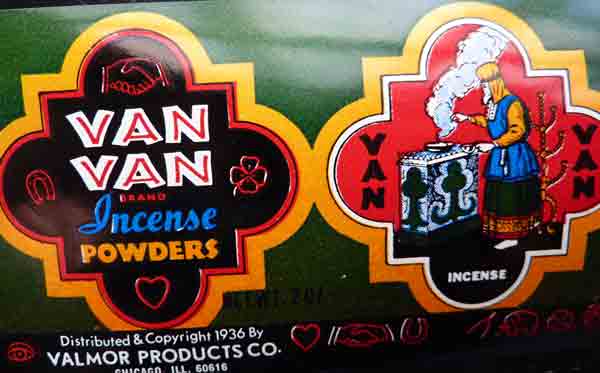 These are Van Van brand incense powders copyright 1936 from Valmor Products Co.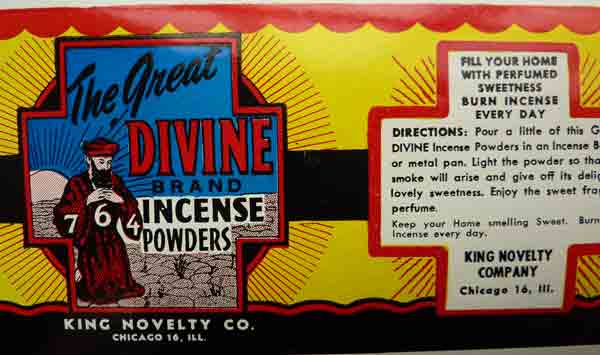 The Great Divine brand incense powder, undated from King Novelty Company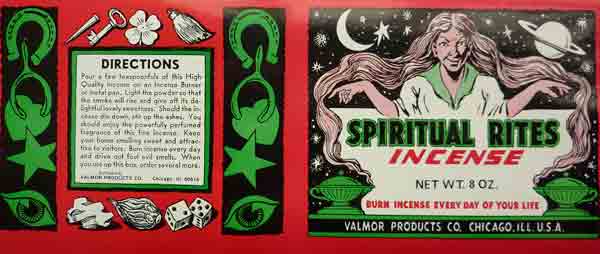 This label for Spiritual Rites incense shows lucky symbols on the back along with a drawing of a High John root and presumably a piece of Lodestone.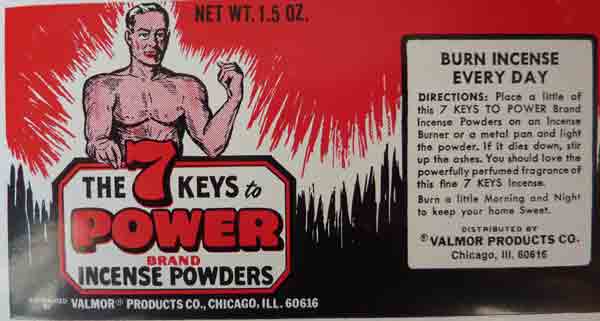 The 7 Keys to Power brand incense has similar art to the popular book of the same name by Lewis de Claremont.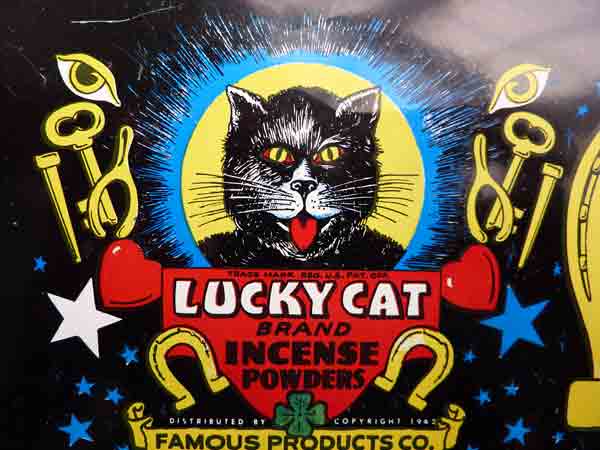 One of the great  pieces of hoodoo art, copyright 1942.